Last year, we spent a lot of money having ten pine trees removed from our backyard. Some of the benefits of having that done include no longer having to deal with pine allergies and pine needles everywhere including clogging the gutters. And the big one for me–getting to walk out onto my deck barefooted because I would no longer get the parts of the pine cones that the squirrels left everywhere after stripping the cone stuck in the bottoms of my feet.
In the past month, a squirrel decided that our deck is still the perfect spot to strip pine cones to get at the pine seeds. This squirrel is carrying a pine cone from our neighbor's yard, climbing up the steps of our deck, and jumping to the railing.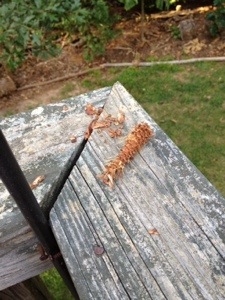 Unbelievable.
The weather has turned cooler over the past week, especially our overnight lows, and I hadn't seen our hummingbirds come to the feeder. However, since I wasn't completely sure they were gone, I decided to leave the feeder up for a little while longer. One day, I noticed the level of water in the feeder dropped significantly in a very short amount of time. Even when we had a bunch of hummingbirds coming to feed, the water level never went down that quickly.
I happened to look out and found out exactly why the water was disappearing so quickly.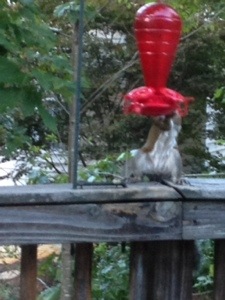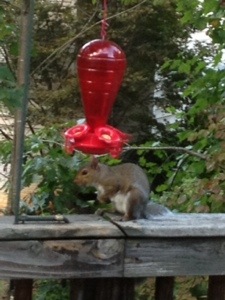 Yes, that's a squirrel tipping the hummingbird feeder so it can drink sugar water. Unbelievable. As if a squirrel needs a sugar buzz or the equivalent of a five-hour energy drink. I'm reminded of Twitchy from Hoodwinked…"DeeNaMeeTay!"
I didn't even get a tomato plant this year because the squirrel nabbed my tomatoes before they were ripe last year, even going so far as to rip vines down so it could get to a particular tomato.
I need a squirrel hunter.